Happy fall!
I'm back on this blog. It's been quite a while since I last posted my makes. Almost 2 years to be exact. I blame Instagram for it. Although I find IG more convenient, I keep regretting not documenting my me-mades especially my hacks.
When
Michelle
invited me to be a part of Style Maker Fabrics Fall Blog Tour, I saw it as an incentive to revive this blog and jumpstart my sewing mojo which has been dormant this summer because of my 2 months long trip to Europe and Africa.
Style Makers Fall fabrics fall 2019 selection is fabulous. I had the hardest time making up my mind on what to pick and Michelle was gracious enough to send me pics of various fabric pairings to help me in my decision process.
Make sure you check out Lindsey's (Inside the Hem)
swatch review video
. You get an insider look at the fabrics, she shows you how to pair them and what pattern will work for these fabrics. Love it!
Here in NorCal, our fall and winters are extremely mild, and right now it doesn't seem like the temperatures will drop anytime soon. In the meantime, I've been already thinking about sewing a fall wardrobe and incorporating some of the 2019 fall trend key elements to it.
Corduroy and plaid which are making a big comeback this fall and I couldn't be happier. I chose a
stretch pinwale corduroy solid olive
and a
giant gingham check flannel shirting navy white
. At first, I wanted to make a jumpsuit but then stumble upon this
Anthropologie skirt
and
gingham top
and knew they'd be really cool together.
I love the result!
For the skirt, I simply hacked the Closet Case Fiona dress.
I used the midi skirt portion, cut it in half and extended the bottom half to make a ruffle. The ruffle ratio is 1.5:1 for the two front pieces and 2:1 for the back. For the waistband, I used the pattern piece for the Jenny Overalls also from Closet Case.
My only complaint is that it's nearly impossible to make buttonholes on corduroy fabric. If you have any tips on sewing buttonholes on corduroy, please do share.
For the top, I hacked the Grainline Studio Scout Tee pattern. I raised the neckline by about 1 inch, reduced the bodice front and back length by 1 inch, changed the back neckline to a V-neck. Last but not least, I redrafted the original sleeve pattern to get a puffed sleeve, because puff sleeves are here to stay and I can't enough of them. I used a 1 inch wide elastic to gather up the sleeves hem.
The gingham flannel is a dream to work with and sew. I have a little bit of fabric leftover and so I think I can squeeze a cropped shirt or an Ogden Cami out of it.
Can you tell I had a lot of fun playing with the Scout Tee sleeve?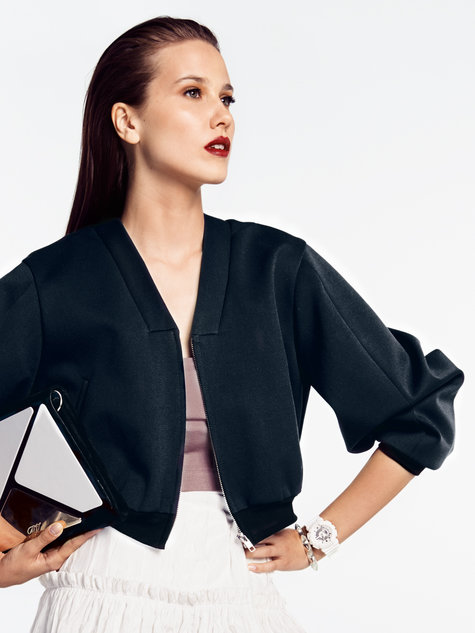 Next and totally unplanned is the Burdastyle Puffed Sleeve bomber jacket. Because my original plan was a jumpsuit, I got 3 yards of the stretch corduroy. The skirt used up about half of the total yardage and thus the bomber idea came about. And I'm in love with it.

The sleeves are the same as the Burdastyle top sleeves I added to my winterized True Bias Lodo dress below.

1.5 yards wasn't enough to properly cut every required pattern pieces so I used up every single scrap of the fabric to the point where I forgot that corduroy had a nap and placed my pattern pieces in different directions. Fortunately, it's not too obvious but I definitely learned my lesson. Corduroy is a napped fabric so it looks different and reflects the light differently. You'll need extra yardage in order to follow the nap layout. Make sure all your pattern pieces lay in the same direction.
A nifty little thing I used to avoid crushing the nap or pile of the corduroy is the Velvaboard. You can find it for a reasonable price on Ebay. There's also something called needle board but it's way pricier than the Velvaboard.
As far as closures, I opted for sew-on snaps rather than a zipper since I wasn't able to find a matching zipper anyway.
On the above picture, you can tell there's a difference in color. Oh well! We live to learn!
Thank you Michelle for these awesome fabrics and letting me be a part of the Style Maker Fabrics 2019 blog tour. It was a fun ride! The stretch corduroy fabric comes in 2 other colors and I'm definitely going to get the rust color to make that jumpsuit.
Until very soon!